Connecticut Road Map
---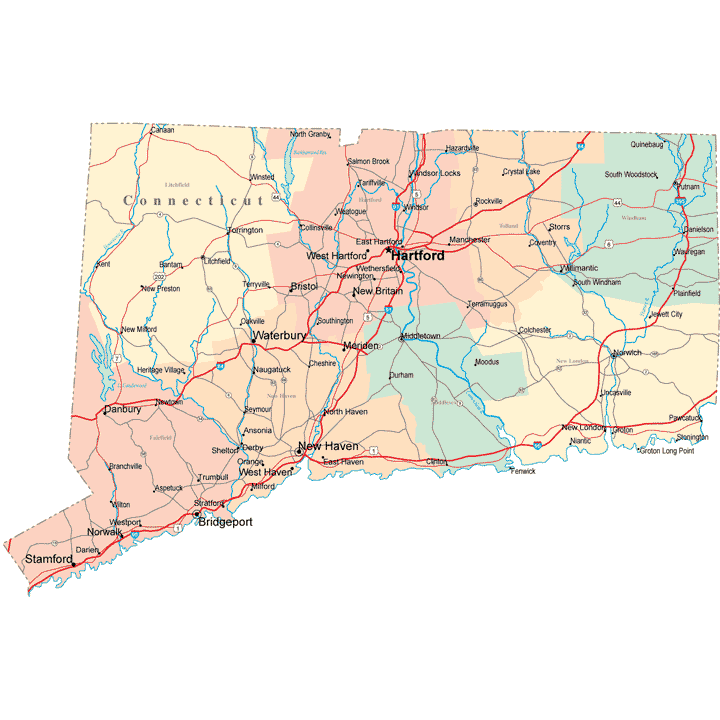 This scalable Connecticut map shows the state's major roads and highways as well as its counties and cities, including Hartford, Connecticut's capital city, and Bridgeport, its most populous city.
Connecticut Map Navigation
To zoom in on the Connecticut state road map, click or touch the plus (+) button; to zoom out, click or touch the minus (-) button. To display the map in full-screen mode, click or touch the full screen button. To scroll the zoomed-in map, swipe it or drag it in any direction. At any time, you can display the entire Connecticut road map or print this page, including the visible portion of the map. The following Map Legend and Scale of Miles apply to the road map on this page, at its largest displayed scale.
Connecticut Map Legend

Connecticut Map Scale Of Miles

Connecticut Interstate Highways
Connecticut's primary Interstate Highways connect its major cities and facilitate travel between Connecticut and its neighbors. I-84 traverses central Connecticut, from the New York State border in the west to the Massachusetts border in the northeast, passing through Waterbury and Hartford along the way. From its southern terminus in New Haven, I-91 motorists can travel northward along the Connecticut River, through Hartford and on into Massachusetts. I-95 traverses southern Connecticut, from the New York State border in the southwest to the Rhode Island border in the east. Cities served by I-95 include Bridgeport, New Haven, and New London.
Connecticut's auxiliary Interstate Highways link and serve its major metro areas. Northeast of Hartford, I-291 connects I-91 with I-84. East of Hartford, I-384 connects I-84 with the city of Manchester. In eastern Connecticut, I-395 commences its northward route toward Massachusetts at I-95 near New London. Southwest of Hartford, I-691 connects I-91 with I-84.
Connecticut Road Travel Resources
For more information about Connecticut's roads and transportation infrastructure, visit the Connecticut Department of Transportation website. For a list of scenic roads in Connecticut, visit this America's Byways: Connecticut page.
---
Copyright © 2005-2013 State-Maps.org. All rights reserved.
Connecticut-Map.org is a State Maps reference source.

Connecticut Road Map - Connecticut Travel Map - CT Highway Map